Living off campus, on your own requires tremendous responsibility. From the monthly rent, to the utility bills, to the...unexpected; you are going to need to be very prepared for all this. However, before all this comes to fruition, we have to first find the best place to accommodate us. As students, we have to find the most reasonable space. Reasonable, in terms of monthly cost, comfort, amenities and proximity to school.
Lucky for us, most times wherever a school is located, there are usually apartments in and around that area that cater to students, and offer all the things we need on the cheap. Students, CHEAP is good!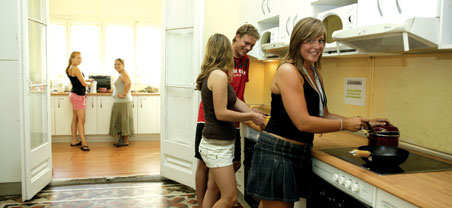 When looking around for an apartment, make sure the apartment:

1. Has a low monthly rent that you CAN AFFORD.

2. Has utilities included (this might increase the rent just a little, but the peace of mind is well worth paying for).

3. Has the amenities you need (if that washer/dryer in the unit significantly increases the rent, opt for an apartment with the washer/dryer in the building itself- or none at all, the laundromat works fine too.)

4. Is clean and everything is in good working order (AC works, no broken tiles, windows or bad plumbing, etc).

5.Has high speed Internet connection (God knows we need that!)

6. Has security (again, peace of mind...)

7. Is not in an area where there is a lot of noise (We will need to study, and unless you can concentrate in noise, this can turn out very devastating - you know what I mean).

8. Is in close proximity to school or is close to a bus or train station that stops at your school (if you have a car, you will still need to be close enough so that traveling is not a hassle).

9. Is in a safe neighborhood.

10. Is somewhere you will feel comfortable living (even though we are functioning on the cheap, we still have to find some place that is homey and comfortable).

If you happen to find a 2 or 3 bedroom apartment that is really inexpensive, you may even take in roommates! Having roommates significantly cuts the cost of rent for...everyone! The good thing is, most times, a 2 bedroom might work out much more reasonable than a 1 bedroom or a studio. So if you have no problems sharing your space, this is a great option.

Folks, we're students - be frugal. We can't spend what we don't have. We can save that for later on - you know what I mean ;)

So after weighing the pros and cons of living on or off campus, you have chosen to live...OFF campus, right? Join the club!